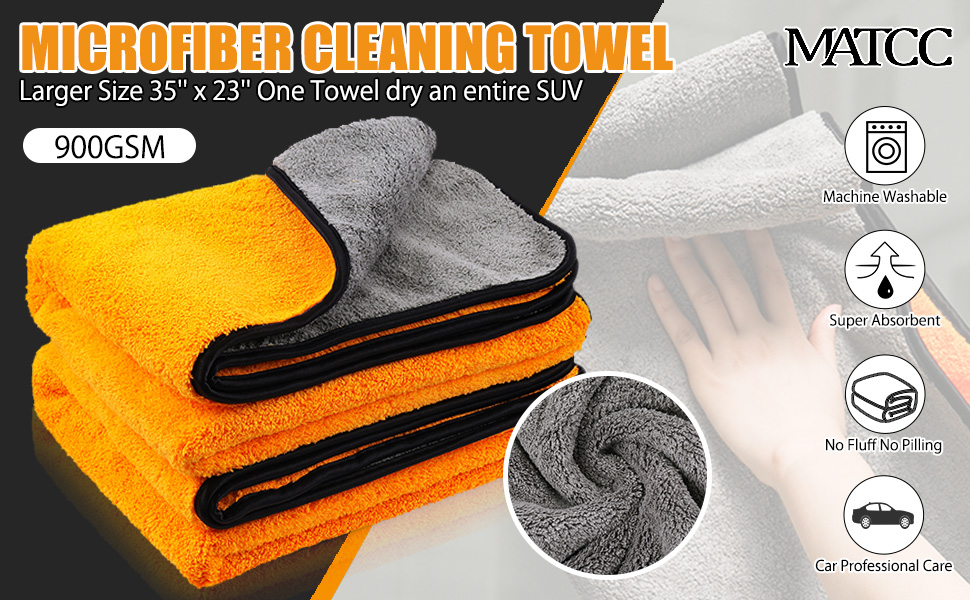 Why Choose MATCC Towels?
▷ Gigantic 35'' x 23'' Dimensions
▷ Reduces drying time with less wring-outs
▷ Perfect for larger cars, trucks,SUVs and boats
▷ No Fluff No Pilling No Fading
▷ Made with 70/30 microfibre
▷ Silk edges further reduce scratches
▷ Bright orange color highlights dirt
Specifications:
▷ Material: 70% polyester, 30% nylon
▷ GSM: 900
▷ Size: 60 * 90cm
▷ Color: gray,orange
▷ Quantity: 2 pack
Large Microfibre Cleaning Cloths
Normal microfibre towels are 16'' square. MATCC microfibre cleaning cloth is an enormous 35'' x 23''(90 x 60 cm).
Why is it designed to be the larger size?
1. Larger towels embed thousands of microfibers, deliver maximum absorbency, absorbs over a gallon of water.
2. Greatly reduces drying time with less wring-outs.
3. Fit for quickly dry any larger car, truck, motorcycle, boats, SUV or caravan.
Premium Microfibre
Made of 70/30 blend of polyester and polyamide, for a soft, absorbent touch; picks up any missed dirt for a scratch-free shine.
Luxurious Silk Edging
Different from cheap nylon edge, MATCC cloths are stitched with high quality seaming threads, enhances tear-resistance and durability;
Silk-banded edges provide an extra layer of scratch-free protection.
Double-sided Color Towel
Different colors on both sides to help you distinguish different uses. Bright Orange highlights dirt, shows you when to flip to avoid scratches.
Tips:
1. Wash it before initial use is highly recommended to avoid color fading or fluffing as the towels may accidentally absorb some fluff when producing. But no need to worry about such problem after that.
2. Machine washable,best temperature to wash the towel is 60 degree Celsius.
3. Do not use any fabric softener to clean the cloth as this clogs the microfibers and reduces performance.
More options:
Click >> 380GSM Microfiber Cleaning Cloths 16'' x 16''(Pack of 12)
Click >> 1200GSM Microfiber Cleaning Cloths 16" x 16"(Pack of 2)
Click >> 380GSM Waffle Weave Microfiber Cleaning Cloths 21'' x 30''(Pack of 2)