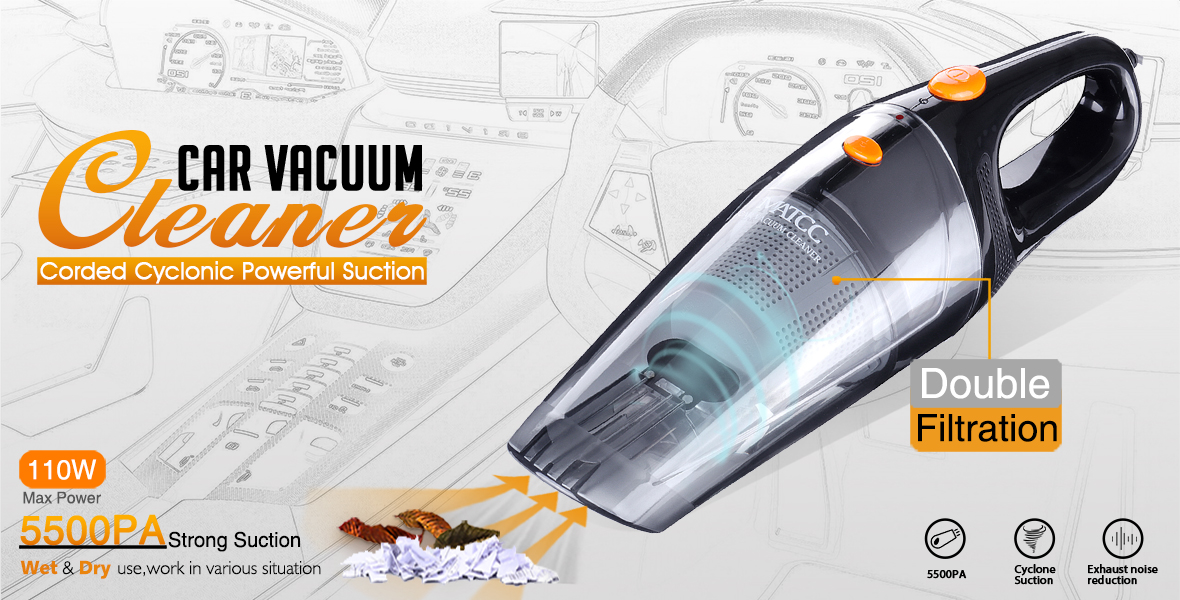 High Power and Super Suction
Our MATCC vacuum Cleaner has fashionable and smooth shape and strong impact force of color matching. With 110W high power, third generation 28000r/min-MATCC special motor for high-speed vacuum cleaner, support cyclone vacuum.
The suction is more than 5500Pa(23inch h2o), achieving long-term use. Stronger Bass design is as low as 75-80dB(industry standard for car vacuum cleaner is under 82dB). LOW noise can be more comfortable to use.
▷ High power
▷ Super suction
▷ Copper core motor
▷ Cyclone vacuum
▷ Low noise(lower than standard 82dB)
NOTE:
1. Specially used for car, home.
2. Don't use in other excessive dust environment.
3. Avoid sucked pollutants into the copper motor.
4. No more than 20 minutes for using each time.
Stainless steel HEPA fiter and water filter funnel
The outlet uses the activated carbon filter, original nano waterproof stainless steel filter screen and built-in cyclone dust collection.
Supporting directly washed and has long service life, it will be easy to clean and no need to replace frequently for life, strong filtration, preventing secondary pollution.
Support Dry and Wet Use
There is no fear of water stains. Dust and water can be both swept away, easy to deal with all kinds of embarrassing situation.
After finishing the clean, hold the handshake part in the middle of the metal filter screen, rotate the dust cover at the bottom of the filter assembly clockwise, wash the metal filter screen and dust shield with clean water for future use.
Five Accessories
Long flat suction and short flat suction can clean up for different gaps. Gasket nozzle can cleaning the leather seat without scratching the seat cover, and brush nozzle is for cleaning pet hair. Well, you can use a hosepipe to lengthen for vacuum, easily to handle the dust in all corners of the car.
High Quality Wire
New upgraded and thick the connecting cigarette lighter, the core is about 2*1mm and equiped 16.4ft long power, which has national safety certification and can reach any corner of the car.
Leakproof Seal
Designed with leakproof seal. When turning off the power, it will seal immediately to prevent dust from leaking out.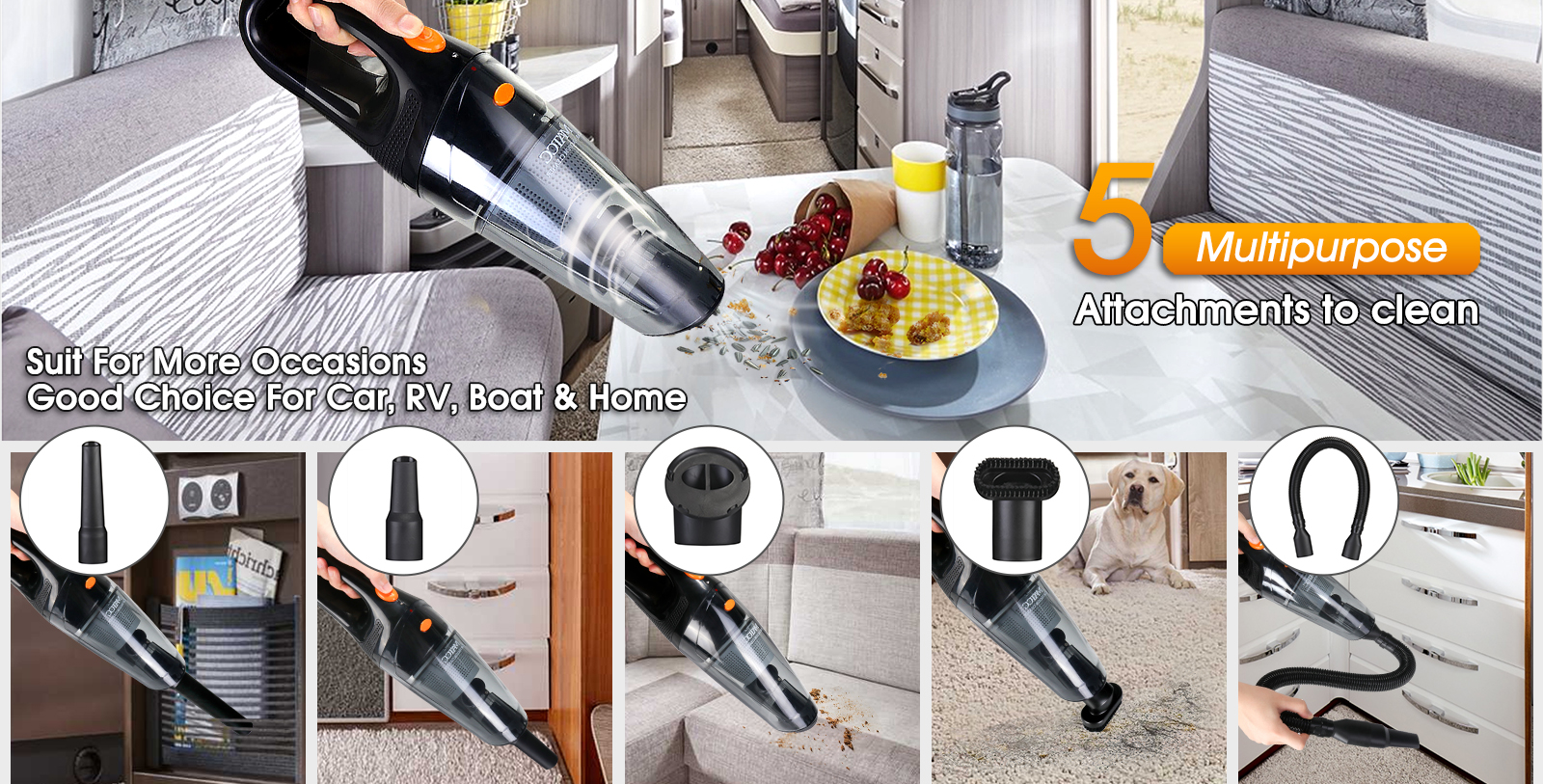 Package Included:
1x Car Vacuum Cleaner
1x Gasket Nozzle
1x Brush Nozzle
1x Short Flat Suction
1x Long Flat Suction
1x Extended Suction Pipe
1x Filter
1x Manual

How to operate car vacuum:

1. Insert cigarette lighter plug into the DC 12V cigarette lighter located in the car and switch the car on.
2. Push the switch button forward to absorb trash.

3. Use correspondent suction nozzle accessories according to different occasions.

4. Any locations of the car can be reached with the 16.4ft/5m power cord.

5. Better to keep the suction nozzle face and absorbed face at a parallel level.

6. NOTE:Please keep the using time of the appliance less than 20 minutes each time.